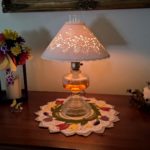 Tulip Swirl as completed by Deane Evans Brothers, spring 2018
What a nice surprise to have this photo and comments sent in through my Facebook feed! Thank you Deane Evans Brothers! And such a wonderful job! I cannot tell you how much fun it is to see how my patterns are completed. I wish you could see the smile on my face as I love viewing all the creativity out there. Deane also left these nice comments:
"I have just put mine out, I was so tired of winter and snow stuff sitting around my house!! I loved every minute of making this. The kit was fabulous and even I could follow the directions with no problems."
While this is wonderful feedback, it isn't always the same for everyone. So I cannot stress enough how much I value your input, thoughts and constructive criticisms! And while it may seem to you that perhaps your particular observation/comment/input did not change anything for a particular pattern, please know that I have a huge place in my head where I 'file' all the comments, etc. and oftentimes those ideas will surface down the road. (I am a former teacher and I fully realize that not everyone 'hears the same words in the same way'!!)
So please, if you are looking at this post, think about sending me a photo of your version of any of my patterns to share. I would love to see your work!!