I know….it's been awhile since I last posted anything….Such is the situation when one is the entire operation of a small business! No one can accuse me of flooding their notifications with and undue number of posts! LOL! And its not like I haven't been doing anything…..after a year spent writing, drafting and publishing 5 new patterns, I need(ed) a break to satisfy my own creative stitching spirit. But I am thrilled whenever I see the photos that you post of your finished pieces using my patterns. It is so fun to see how you all make them your own with your own little touches. And I am always very grateful that you take the time to photograph the pieces and to post them. In a world where I really don't get to 'meet' you, your experiences and work is the only way I learn about the good and (hopefully) not the bad of my patterns. Thank you!!!
And now to catch up with several photos of finished pieces….
First up is this wonderful navy blue and white version of my Snowflake #1 pattern. Done ever so nicely by Barbara Findlay Dombrowsky who chose to stitch the snowflake in a contrasting thread for a beautiful effect. Using contrasting thread is always a bold move as your stitches are very 'visible' – in contrast to stitching with a similar colored thread that blends in with the piece. Both can be great choices, but a beginner who is somewhat concerned about his/her abilities may favor a similar colored thread to draw less attention to less than perfect stitches. Barbara's stitches here are wonderfully done. I also like the darker blue as a choice of color. Yes, you can make your snowflakes any color you like! Thanks for sharing Barbara!
Recently, Nancy Pierce posted these photos of her take on my "Tulip Swirl" pattern. This has always been a popular pattern, especially as spring begins to roll around. I love the colors she chose to use and I especially love the patterned/plaid background wool she used as a base for the tulips. It is always the best for me when I find that someone has truly make the pattern 'their own' via their unique wool choices, etc. There is ALWAYS more than one way to make a pattern! Here the printed wool she chose, takes the place of any beading or stitching in the background. Her stitching is beautifully done. Thank you Nancy!
In the last month Debbie Wright Akin was kind enough to post these photos of her progress completing my Yule Calendar and it's ornaments…no small task! She will surely have a treasured piece of handwork when she is done. Notice that she changed up the border colors for the actual calendar and they are wonderful. And by looking at all the pieces she has cut for the ornaments, she is a very precise person! Very fine cutting…not to mention the color choices she made. That is one of the fun things about the ornaments for this calendar – they are so easy to personalize to your own liking. (When I was making the ornaments for the pattern, it was hard not to keep coming up with ideas for either more ornaments or other color combinations – so this is so fun when I see you all do that for me!) She has promised to post photos when she is done….I can't wait to see them. Thanks for sharing Debbie!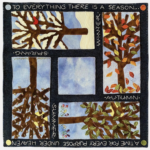 Last but not least, I just received this photo from another Debbie.  Debbie Alsene Lazarski sent this photo of her completed "To Everything A Season" – one of my newest patterns just released less than 3 months ago.  She's fast!! But what a wonderful job she did with the stitching  along with her choices of wool and threads.  So fun that she added flowers to her 'summer' and some special buds to her 'spring'.  And while she did the table mat for the pattern, please note that the pattern also allows for making the individual seasons as small wall (or wire) hangings.  I hope she enjoys the piece throughout the year.  She did a great job.  Thanks to you as well Debbie!
I hope that these gallery photos will encourage more of you to send in your completed projects.  Part of the fun of wool stitching is the chance to share with all our fellow handworkers and to inspire everyone's creative ideas. Keep stitching…but don't forget to have fun!!