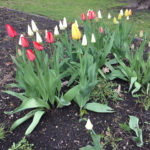 FINALLY!!! I think it's safe to say we are leaving the Minnesota winter behind us and I , for one, am glad to do so. It's been a rather bumpy start to 2019 for me and I'm looking forward to a little less interaction with the health care professionals! LOL! Once more this post is almost a year out from my last one. Little did I know that kidney stones and a myriad of other health issues would play such havoc with my best intentions. But I'm a 'pick-yourself-up' kind of gal (the older I get I've noticed that those 'pick ups' take just a bit longer!) so here I am, back to catch up on the last several months.
There's lots to catch up on, so forgive me if this post seems to 'wander' a bit. As I said, it's been a bit of a crazy year and trying to keep everything in order in my brain is a challenge. I don't mention it often as I prefer to be known for who I am – not what I 'have'- but having health issues (like kidney stones and others I wont bore you with) plays double havoc for those of us with greater ongoing immune issues such a CFS, FM, post herpetic neuralgia and Chronic Lymes. I know many of you out there are in similar situations. I decided long ago to make the choice to just keep plugging along as best as possible and very much imperfectly. Some days that works better than others. LOL! So as I 'plug along,' it has been my goal for the last 2 years to tackle many of my unfinished quilting projects in between designing and producing some new wool patterns. So here's a bit of a rundown as to what I have managed to get done over the past year.
I will start with the most exciting news that my design/pattern called Daisies In My Pocket (a 27″ x 10″ runner) was featured in the WoolWorks Magazine summer issue. So if you enjoy the pattern, go to https://woolworksmagazine.com/ and you can order a hard copy or a downloable version. If you are really clever you can 'half' the pattern and make a small hanging with just one pocket! It's always fun to see one's work in print. I am committed to the magazine for 2 more projects in 2020. Now if I can only make my health behave! LOL!
Last fall, we did a camping trip up through central Wisconsin (Chippewa Falls and Wausau) to the Upper Peninsula of Michigan and then down to check out Door County, Green Bay, Wisconsin Dells/Baraboo, and LaCrosse. My DH was kind enough to stop at almost any quilt shop we could find. Since I don't often have the energy to travel out and about to quilts shops, I really enjoyed seeing what all the shops had to offer. I was amazed at how many shops carried wool. It has been my observation that here in Minnesota – while some shops have a great selection of wools – others carry very little or none. Wools are not particularly cheap and since so many of our quilt shops are struggling to stay afloat, I understand their need to make such choices. I happened to also be shopping for some Civil War prints – for a wedding gift/quilt. Here's a list of some of the shops that I stopped – and shopped – at: The Needle Workshop and Grants Merchantile – both in Wausau, Around The Block Quilt Shop in Minoqua – I believe this store was closing 🙁 , Portage Quilt House – Houghton (MI), Alley Kat – Marquette(MI), Village Fabrics and Crafts – Paradise(MI), Quilters Haven – Menomonee, Barn Door Quilt Shop – Sturgeon Bay, Pine Street Quilts, Marinette, Quintessential Quilts – Reedsburg, Mill House Quilts – Waunakee, Quilt Corner – Sparta, Olive Juice Quilts – Onalaska, Nelson Flag river Road Quilt Shop – Lacrosse area.
At one of the shops I picked up these Halloween panels (one was a kit). I've never felt inclined to buy a panel but thought they would make great gifts for 2 of my grandkiddos as well as giving my some practice on 'George'! I don't remember when I finally got them pieced, but I finally free motion quilted them in late winter. Despite not feeling all that great, I figured the kiddos probably aren't going to be too critical of Grandma's workmanship! I quilted bats into the panel areas and I think I will count them, put the total number on the back label and challenge the kids to see if they can count how many bats there are!
Two years ago, I bought a Judy Niemeyer pattern – Cabin Fever. To make a long story short, it was a very disappointing experience. The pattern was well written, etc. but the list of colors for fabrics produced a totally different looking quilt than pictured on the pattern. Considering I have a background in art (as does my DH) I usually am pretty decent with colors. My Cabin Fever came out with rather bright colors as seen in the photo above – not the nice earthy tones on the pattern cover! In disappointment, I did not want to waste my time or materials, but I didn't like the blocks. Enter, my son (yup, the one that helps run this website). He thought the colors were fine, so I gave him the blocks and he went to work arranging them…until finally he proclaimed "It's like the electronic game "Simon" from the 80's!!!" He thought it was pretty cool. So I proclaimed it his – and after quilting it on George – it was given to him this spring on his 40th birthday! I had fun using quilting rulers with George! The last photo above is the almost finished quilt I promised my DH a few years back. I had purchased this panel somewhere in Colorado (I think) and used EQ8 to design a quilt that would represent our travels, love of the mountains, and married life together. I finally got the designing done last year and spent time in between other projects, etc. putting it together. I was rather proud of myself for figuring out the EQ8 program, if I must say! In this photo, I had added the picture frames of photos from various trips, our wedding, etc. That had not been in the original design, but I think added a lot to the top. It is now spray basted and ready for quilting on George. That was DH"s choice as I did offer to hand quilt it for him. His response "Id like it before it covers my coffin!" OK LOL!!!
If you follow my website, you'll know that I designed, wrote and produced 3 new patterns (other than the one for WoolWorks) from late December and into late April. You can check out more photos in my shop. The new patterns as shown are 1-(top)Wild Roses, a rather petite little mat, 2-(middle) Native Beauty, a piece that honor the sewing skills of native women, 3-(bottom) Cobblestone Garden Path, because who doesn't enjoy a garden stroll and wild flowers?! Because of the complexity of the Native Beauty and Cobblestone patterns, I decided to create an 'Artisan' series of patterns; patterns that are best suited to those handworkers with some experience and willing to interpret and 'participate' in making the project by virtue of their past stitching experience. It's not that these patterns have such unusual stitches, etc, but they are complex either due to many pieces, order of piecing, and perhaps a new technique here and there. Those patterns are also written with the understanding that the stitchers already know how to use fusibles, certain threads, etc. It will be interesting to see how well these 'Artisan' patterns are received. Sometimes you don't know until you try!
These three little 'mug' rugs – or mini wall hangings – were done as samples for a workshop that I did for the Prior Lake Quilt Club that I belong to. The purpose of the workshop was to introduce how to use beads in one's wool work. Each participant chose a kit, some illustrated instructions and went to town stitching after I demonstrated. [Silly me, I forgot to take photos! DARN!] Unfortunately so many stitcher's believe that beading is just too difficult, but for the most part, it's all about the chosen materials! I have a YouTube/DesignAndBeMary video that shows the best materials and how to do the beaded blanket stitch.
Just last month I finally came to the realization that I was not likely to get around to enjoy sewing on the treadle sewing machine I had picked up at a large church garage sale late last summer – if I was going to wait until I refinished it and figured out how to get it working with the belt, etc. [The machine turned and all parts worked, but I needed to figure out how to get a new belt on correctly as well as cleaning up 100 (my machine is dated to 1906!) years of dirt and dust and figuring out any fine tuning adjustments.] So I decided to take it down to the wonderful gentleman who fixes and repairs sewing machines and said he would be happy to work on it! (mind you, he's 81 years young!) After a few hours of work and instructing me on the various parts, adjustments, etc. I had a working treadle ready to go! I still have to refinish the cabinet and really buff up the machine, but I was too excited to give treadling a go…So fun! And now I can sew without electricity! LOL! Yes, but as I quickly noticed, no electricity meant no light to see what I was sewing well. Not one to be discouraged, I decided the perfect light would be a headlamp – the kind you use for camping! With a few adjustments to the elastic band, I had a great light that can even be positioned exactly where I want it. If you look closely in the enlarged photo, you can see it. Then I found out that my featherweight adjustable seam guide works on the treadle! Yay! Now I just have to refinish the cabinet ….. and find time to do more sewing!! So love that treadle rhythm!
The next 2 photos are of some vintage tablecloths my mother used to use – back in the late 50's and early 60's. I'm one of those nostalgic folks that just can't get rid of these kinds of things because of the good memories that they bring to mind. I think of how women (read 'housewives') in those years, lovingly washed and pressed those tablecloths to make their home environment a bit more pleasant. As I stood there with them in my hands, trying to tell myself to let them go, I remembered that somewhere along the line, someone in the Daystitchers group that I belong to, brought in a similar tablecloth that she had pieced blocks around and then quilted. So I thought – picnic quilts! In one photo you can see the pieced edging blocks as I was working; the other photo shows all 3 of the tablecloths spray basted and ready for quilting. I really like the yellow and gray one, and the one with the fruit (red and blue) is so very 50's, but they are all fun. They will be good practice for me on George!
Hopefully my next post won't be another year out. But I've said that before and had to eat those words. Somewhere there was a quote I heard a while back -"If you want to make God laugh, just tell Him (or Her!) your plans for the day!!" My life is a fine balancing act between designing/producing patterns, sewing my own projects, sewing things for gifts, charity, or for quilt group challenges, as well as all the personal things I try to keep up with – knitting, household upkeep, gardening, as well as exercising and so on. I have so many ideas and thoughts I'd like to share…..one day at a time! Until the next post, do what you love and love what you do!