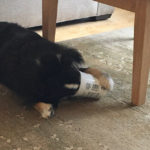 In the spirit of the last 6 months (since I last posted a blog) I thought you would enjoy this photo of our dog. Reka is our beloved Aussie and she entertains us to no end every day, but I had to laugh out loud as I witnessed her determination to clean out the yogurt container. I had two thoughts – 1)I have felt like this more than once during these long months of life during Covid times (sticking my head in a hole has sounded good more than once!! lol!). and 2)maybe we should be more like dogs, focusing on the short term and immediate pleasures of the little things in life. Easier said than done these days, but always worth the try. Not sure how everyone is spending these long weeks. There are those who are purging, cleaning, and refreshing their environments as they look forward to 'a someday' of a new normal. And then there's those who are just trying to hang on through so many changes, many of which make life very challenging and in some cases, devastating. Perhaps we are all learning about who we really are. I hope that somehow, we all come away learning to be more kind and compassionate, evaluating our values, and ready to be a united human community.
Somehow, I have never been so busy as during these times when my DH and I seldom venture out to many of our former activities. We are lucky. As artists we certainly can find enough projects to entertain ourselves. However, I often am left feeling like I have gotten little done! What a confusion of feelings! I have decided that it may be in part to the loss of sense of time – you know…what day of the week is it?? If we don't have a sense of time, we have no perceived measure for getting things done. Anyway, this post will share a number of various creative pursuits that have occupied my weeks.

Back in March, I spent several weeks making masks for local hospitals, our food co-op employees, and family and friends. I found them rather 'puttzy' to make, especially as I included wire inserts for the nose, but stuck with it till I almost hit 200. The best recommendations at the time were a very tightly woven cotton (I used batiks) and a medium to lightweight lining of cotton flannel. The flannel surprised me but was comfortable against the skin. I think I would use two layers of batik for the summer months. I was lucky and got my elastic prior to the months where elastic was all but impossible to find. You can see the photos above for some of the fun batik fabrics I used. I also continued making some wonderful little 'Clam' bags (by Annie's.com) – these are so fun to make. I have made them before and donate them to a local organization for foster kids. I had never thought about it, but foster kids often move from place to place with very few belongings of their own. So these are nice for them to have as their own, filling them with personal items or even small toys. After a lifetime of sewing for necessity, it's 'sew' nice to sew for others who need a lift in life. The photo on the right shows a couple of ones I made for my daughter out of her Hawaiian prints.
I rarely take many classes as I often find it difficult with my health issues.  However last summer I took an Hawaiian Quilt class from Nancy Chong and had appliqued the design you see above on the left. It was quite informative to learn the steps in preparing the large appliques and getting them centered and even. I decided to hand quilt the quilt and you can see the finished project. It's a beautiful refreshing pale aqua color and it has a lot of 'poof' showing off the quilting as they use a much heavier (thicker) batting in traditional Hawaiian quilting specifically for the purpose of showing off the quilting.  ( I also learned that the early Hawaiian quilters so welcomed the then 'newer' polyester batting as it withstood the tropical weather conditions much better than cottons and wool.)  I enjoyed it so much I have another one that I have appliqued and am currently attempting to machine quilt it on my George. I think this time I will allow myself to include some 'less traditional' Hawaiian quilting.
A year ago my quilting group decided to issue a 'page 35 challenge quilt'. Turn any book or magazine to page 35 and make the quilt you find there. First of all it can prove to be a challenge to find a quilt on the page at all, so time was spent going through various printed materials. I was lucky and found a pattern called "Western Star" in one of Edyta Sitar's books. (I love her sense of color and design.). I decided to combine this with a piece of fabric I bought many years ago on one of our camping trips out west (As someone who always loved things western, I often collected western and cowboy fabrics on my trips out west!). It is a Kaufman fabric with the heads of different cowgirls – all with fun 'western' names. Well, wouldn't you know I was just a bit short of fabric for the pattern??? So I pursued what I guessed would be a rather futile search for more of the fabric. None to be found!! However I did find two yards in another colorway – selling for $89.00!!!! My husband said maybe I should choose another fabric and sell mine! No thanks! So I now had to cut out and applique (broderie perse style) all the 'cowgirl heads' to the cream colored background. I then used embroidery thread to outline the heads. I was unable to cut out the names so I used a micron pen to write them in the same way….with one exception! Notice the tousled little gal with the rust colored hat and braids in the right hand photo? Well I decided that would be me….her new name is Mary Rose. So much fun! I managed to get the stars and the border (sorry no photo with the border) done and basted the quilt. This one is being hand quilted, so will not likely be done in time for the reveal which is supposed to be this September. I'm OK with that as this may be one of my last hand quilted quilts – and it's all for me!
In between whatever sewing and stitching I was doing, we spent a lot of time in our gardens this summer. Yes, I said gardens- as in plural. We have a raspberry patch, with an additional area for the tomatoes. Then we have a garden way out in front of our house (it's where the sunshine is!) and another garden way in the back yard (again where the sunshine is!). That's living in a wooded area for you! We used epsom salts and egg shells this year and we have had a bumper year of crops. We had several tomatoes weigh in at 1 1/2 – almost 2 lbs as you can see in the photos on the left. Aside from fresh eating, I canned 15 pints of tomatoes, made 7 24oz. jars of zucchini/tomato spaghetti sauce, and 7 jars of salsa…..so far! Then there is the 13 jars of raspberry jam, 8 of peach, and 7 of honey/blueberry. Some of that will make nice gifts this next year. You can also see the abundant columbine blooms we were blessed with. They were just so beautiful. In between the canning and some freezing as well, I was determined to tackle the fine art of sourdough bread. After the early spring months of just trying to find flour(which was in extremely short supply), I think I have at least accomplished the 'somewhat respectable' level of sourdough – check out the photo above. I am absolutely fascinated how our pioneer predecessors managed to keep a sourdough starter alive as they spent the better part of a year traveling across our country.
I almost forgot to mention another quilting project that I finished. I purchased this Feather pattern at the Hawaiian Quilt workshop. I found the perfect background of a graduated striated colors that just screamed beach and water to me. But here is where I have a confession to make. I hoard Cherrywood fabric! There – I've said it OUT LOUD! Cherrywood dyed fabric is nothing short of luscious, rich, vibrant and oh so inviting. A bundle of their fabric has always been that 'special purchase' I make once a year at a major quilt show. I found that I had the perfect Cherrywood colors to make the feathers and the stones (my addition). But to use them I had to take that scissors and cut into those luscious fabrics. And yes, I finally did it after telling myself that at my age I really would have only so many years to use them! Case closed. You can see the results in the photos above. I don't think the close up photo is clear enough for you to see that I just had to add 'grains of sand' (beads) to give it a special touch. The runner was quilted on my George. I am so happy with this project!!
Last but not least, I finally made time to refinish the cabinet of my 1906 Singer Treadle with a lotus design. This treadle was purchased a few years ago at a local church sale for $50.00! It is fully functioning and the gentleman who helped me get it 'tuned up' took the time to talk about the cabinet finish and how the veneers were applied, etc. He mentioned that the veneers were actually painted by hand and they were difficult to save when other stains and damages had occurred. Assessing the state of the cabinet, I decided to repaint the iron base and Singer logos, but to chalk paint the wooden base and drawers. I used gold metallic paint to return the logos to their original color. Had the original finish been less stained and scratched, I would have kept the original wood color. That was not the case and I want this to be a piece of furniture I can have anywhere in my home. One quick benefit from the refinish is that I can see my fabrics and materials much better against the lighter chalk paint color. In the photo above and the three photos below you can see the results. I even went to the Rockler Woodworking store and purchased the flocking kit to redo the front drawer lining. All in all, I am so pleased with the results. Now the only thing I continue to debate is whether I should pursue converting the treadle from a 'back clamp' to a side clamp. Should I decide to do that, I could then use all the accessories I have for my Singer Featherweight. I will continue to debate the issue.
The very last thing I have to add is that I finally finished creating the patterns for my new series 'CORKED!' I have spent considerable months playing around with combining fabric backed cork and wool. I love experimenting and mixing up my materials. These are great for quick 1-2 day projects, can be used as hanging 'tiles' or as a mug rug, and make wonderful gifts without breaking the budget. After working up at least 2-3 dozen samples, I created simple one page patterns, sold in sets of 3, and just recently finished getting them posted in the shop. See the photos below and check them out here http://www.designandbemary.com/product-category/corked-patterns-and-kits/
While I don't often make kits, I did spend a few weeks creating 'one of a kind' kits for some of the designs. Because of issues with website inventory, the kits will have to be purchased via and email to me and invoicing through PayPal. The patterns can be purchased directly from the website. Be sure to let me know if you have any thoughts or comments about this new concept…I value your feedback.
Well this is certainly plenty long. Thanks for sticking with me. I hope you found something of interest along the way. Now that I have caught up on my posting and listing of products, I'm anxious to get back to some of my personal projects. That way I'll have more to share in the next post. Meanwhile keep yourselves and your loved ones safe as possible and find a way to make life as bearable as possible during these months. I once saw a quote that said "Sometimes what you want isn't on the menu..You have to make your own joy!"  Now there's a thought.  Enjoy some stitching!  Till the next time…be like Reka and enjoy the yogurt!!