Happy Halloween to everyone out there! I really do enjoy the fun of Halloween. As a kid I spent untold hours anticipating and planning for the one day of the year when I got to be someone(thing!) else, not to mention the fun of going out – after dark! – with friends to trick or treat for goodies! Perhaps those days of creating costumes (who had money to spend on store bought items??) fueled my love of fabrics, textures, embellishing, stitching as well as any other materials that served a creative purpose!! To my parents credit, they allowed me to create with reckless abandon (well ALMOST..) With only grown kids, grandkids that live at a distance, and a neighborhood that usually only nets us a dozen or so trick or treaters, I do miss the excitement the Halloween holiday used to bring. That all said, I need to now explain that look on the pumpkin….
I was trying to figure out what photo to use for this post – one that would adequately convey the 'horror and conundrums' of getting involved with kits – making them, selling them, and mailing them!! OK, so perhaps the term 'horror' is a bit over the top, but since this is the Halloween season, it had some merit! However, conundrum – by definition – is a perfect description for all the decisions that go into offering kits for sale. In my last post, I promised to share some of the 'issues' I have encountered since deciding that it would be nice to offer a few kits along with my patterns. I do need to preface my comments and thoughts by saying that it surprised me to realize the work, effort, and issues that can be involved in marketing a product or products – especially if you are a small, one person type of operation! It occurred to me that it might be interesting – if not amusing! – to share some of my 'adventures in marketing'!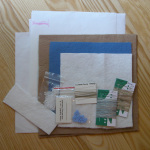 It wasn't hard to decide that it would be nice to offer at least a few kits to go along with my patterns. One only has to realize that with today's internet, people who live in 'remote', rural, or outlying areas, as well as those who may have reasons for not being able to get out and about, now have the opportunity to purchase items that previously would not have been available to them. Even those of us in more populated areas can now buy items that may not be available in our region. For stitchers and sewers, we all know that it IS NOT FUN to have to go from one store to another – fabric here, thread there, fusible another place, embellishments from who-knows-where – to gather what one needs to complete a pattern. While some of us grow to be very resourceful and 'experimental' – using and substituting materials we may already have on hand – others prefer to have and use the materials as presented in the pattern. So the decision to offer some kits was the easy part!
Then came all the 'issues'!! Decisons…decisons!!! Do I offer 'complete' kits as opposed to just the fabric? Do I offer kits in other colors for the same pattern? How do I figure costs since I am a 'small time' designer, I am not big enough to purchase most materials at wholesale minimums? What do I need to do to 'list' the kits and what is my website capable of supporting? How do I figure mailing costs and keep them reasonable for customers? And so the list goes on…. When I read my own list, none of these questions seem out of line, but some of the answers end up exposing interesting 'conundrums!'
I remember a few years ago, visiting a friend who has an online quilting business: helping her package up some outgoing orders, I noticed that she put in a piece of candy with each order. Thinking it was just a fun thing to do, I finally asked why she had chosen that specific type of candy – she then explained that this candy was chosen in order to make sure the envelope packages would meet the postal requirements for a certain thickness/rate!!! If you have ordered a pattern from me, you likely have found that while mailed in a bubble mailer, it is also wrapped in additional bubble wrap – in order to meet postal regulations! I could have chosen to use a flat mailer, but I cannot buy that type of postage through my home computer and would then have to drive to the post office in order to buy postage and mail the package.
So here are some other 'interesting facts': 1)Because my website is very small, I do not have an inventory system for purchases; meaning that if I list something for sale and someone buys it, the site still lists it as available. This works fine for my patterns' not so much with unique and individual kits! Maybe someday I will have enough income to buy the feature that provides for such inventory! 🙂 Meanwhile, I'm on a constant website watch!! 2)Since I am a designer, it is difficult to buy most materials at wholesale prices, aside from the fact that I operate out of my home and I have no place to store large quantities of materials. My kits are made from my personal 'stash' most of which I buy at prices available to the public. So I try to price my kits accordingly, but I likely will never be able to match the pricing of larger shops. 3)Because I cannot buy in wholesale quantities, all my kits will be different: colors and quantities can be difficult to keep on hand if I am not buying wholesale! 4)How much does one charge for the time it takes to cut out, assemble, and package a kit? 5)POSTAGE!!!! (this is where the term Halloween Horror applies!) I really try to charge only for actual postage, but that is easier said than done! [Have I mentioned that in my dearest dreams, I am an internationally famous designer and my website offers customers a choice of 12 mailing options all of which are figured out for you at checkout!!] After trying out different packaging and weighing out kits (did you know that identical kits – one done in wool felt, one done in woven felted wools – can weigh different amounts due to the fabrics?!?!) I then have to consult with the postal rate chart….which now has ZONES!! Example – a package going to zones 1,2 3,or 4 for $5.80 will go to zones 5,6,7,8, or 9 for $9.64. Since my site doesn't 'know' zones, what should I list for postage? Then there are the flat rates which can be great – or not so much depending on the size and weight of your order. Arghhhhhh! Funny story: Two weeks ago, I ordered Priority tyvek mailers and flat rate legal sized envelopes from the USPS – to see which one would work best for the kits I was making. Our local PO doesn't carry either. When ordering the site said that if you ordered a quantity of 1 – a quantity consisted of 10….so I ordered 1 of each type. What arrived??? It appears that I received close to 100 of each!!(I didn't sit and count – see the photo above!) I did remember that the USPS was recently in the news for losing profits! Mmmmmm… wonder why?
Enough facts! I think you have an idea. BUT, I have never been a quitter so you will see more kits listed in the coming months. Let me know what you think….better yet, let me know what kits or types of kits you would be interested in!
On another note, here are some more of the little toppers that have getting finished since the workshop! The variety seems endless – so much fun! (Photos were taken with my phone.)
Enjoy! Have a fun time this Halloween. We are never too old to have fun!!