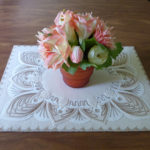 I have to finally admit that keeping up with a blog takes a special kind of effort. I truly admire those who do it as their livelihood. After checking back to my last post, I'm appalled to see that it's been almost 9 months since I last blogged. It seems that life keeps getting in the way. LOL! Of course I can claim the last months of 2016 were focused on the holidays and family occasions. Then in January I was determined to create some new patterns – and I did! Hooray! Except it took almost 3 months to complete the process. Can I blame an old slow computer – or better yet – an old slow operator?? 🙂 At that point, it was April and time for taxes and trying to squeeze in a few personal projects that had been begging for attention for well over the past two years. In May, we decided to 'retry' a trip to see family out west; we had cancelled this trip last year due to excessive heat. (That 'adventure' is worthy of it's own blog, so tune in later.) So here I am looking at the end of June…
Backing up to January, I finally managed to create the patterns for some larger wall hangings that I had created over the past few years. Because of their size and the design program I use, these were time consuming patterns to create, but I was very satisfied to have them done.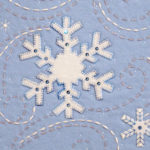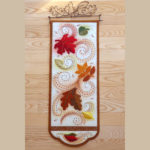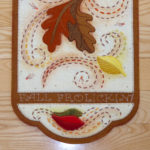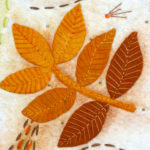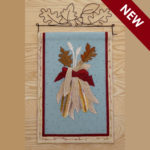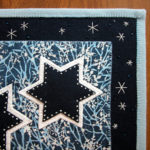 It's Snow Wonder and Fall Frolickin" (the first 4 photos) are similar patterns based on a similar layout. I had wanted to make one pattern with 'change out' elements, but after several trial and errors, it simply wasn't going to work and I went with two patterns, deciding instead to create a spring/summer version in the future. I have even pulled out the wool for project. While larger sized, these are projects that allow for you to have some fun with embellishment and personalization. I have long wanted to try Shiva Paint Stiks on wool, so Fall Frolickin' was the perfect project to experiment with them (LOTS of fun and to my delight,they are quite permanent!) – I will be using them in future projects. While they are not cheap, once purchased they last a long time. I used Glad Press and Seal for the lettering (works quite well) and posted photos as to how this works. Marking on wool can be a challenge so this is a welcome technique. The next photos are of the Indian Corn Beauty pattern which is a beautiful medium sized wall hanging. I love making corn with wool. I used colored pencils to add the varied coloring of the corn kernels. The last photographs are of my Festival of Lights pattern. There seems to be an unending number of Christmas patterns out there, but I got to thinking of all the other traditions that are celebrated throughout the year and decided to make a table runner for the Jewish holiday of Hannukkah 'The Festival of Lights'! For this pattern, I combined the use of batik fabric with the wool/wool felt. The pattern has two versions each with 8 stars and a larger center star on which one could place a lit candle. After it was complete, I couldn't help but think that it would also make a great 4th of July design – done in red white and blue and perhaps shortening the overall length to fit your table, etc. I always hope that I inspire others to take my patterns and 'run with it'! Feel free to check out the details in my shop!
Late this spring, I decided to create a piece to work a bit more with the concepts of using only one or two stitches and only two colors of wool in a project. I also decided to try something in the art nouveau/craftsman style. The photos below show what I came up with. Note the fun I had with beads as well as the blanket stitch edge pattern as seen from the back. It always takes me awhile to like my own work and while I like many things about this piece, I am going to 'sit on it' a bit before I decide if it should become a pattern. Your feedback is always welcome!
During our May travels, I managed to convince my husband that a visit to the Pendleton Woolen Mill Outlet in Portland was a necessity. I have previously been to the outlet store in Pendleton, Oregon but had read that the store in Portland was worth a stop as well. I can only apologize for my love of anything Pendleton wool – it is simply pure luxury! I really don't shop much on our travels anymore, but for this stop I had saved my pennies! The photos below will show what I came home with. It's a good thing I don't live anywhere near to Oregon!
The first photo represents the best deal – $5.00 a lb. for various 'scrap' pieces. I believe I paid around $50.00 for the lot! Not bad for wool that can run upwards of 60.00 a yard – and the scrap pieces were large – 12-15″ by 54-60″ with a small piece cut out! You had to dig around in a bin, but I loved the colors I found. The middle photo shows yardage I purchased of their EcoWool fabric. I thought this was a clothing line wool that was not likely to felt (full) well. WRONG! They had felted samples of all their wools and this felts beautifully. It is called Eco Wool because it is created to high ecological standards regarding dyes and production. Thankfully these pieces were on sale as it normally sells for 60.00 a yard! The last photo is of the beautiful Christmas red and green melton wools I managed to find. Melton wool felts well, but is a heavier thickness – great for backgrounds and projects that need a bit more weight. I was excited to find these colors. The camera had a hard time capturing the correct red as it really is a beautiful more cherry Christmas red and the green is perfect for not only Christmas but for some of my 'nature' and 'outdoor' projects that I have in mind. I didn't show a photo, but also got some yardage of their wool flannel in a denim blue color – a lighter weight fabric even after felting, but since I tend to use a fusible it really doesn't affect my designs. I washed all the wool in hot water and dried it in the dryer – it all came out incredibly soft, wrinkle free and worthy of fondling!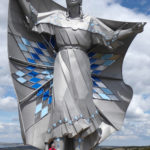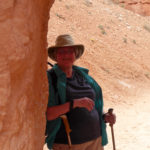 I have a lot more to share with you and I'm hoping that I will be posting a bit more often in the coming weeks. I hope to share a bit more about our May travels, as well as projects that are on my mind! I just had to share this photo of the new sculpture at a wayside in Chamberlain, S.D. Notice the beautiful 'quilted' star on the fancy dancer's shawl? It would have been fun to see it at night as it is made so that light comes through areas on the shawl. It is worth the stop to see it if you ever pass that way. The second photo is one that was taken on the Navajo trail in Bryce Canyon – I love 'path' and 'door' photos and have been collecting photos of various 'paths' I have been on or seen throughout my camping travels. Someday I hope to use these photos to create some fabric/wool 'path' collages. I've long learned that our lives are all about the paths we are presented with, the ones we choose to take and the ones that make us who we are.
On a personal note, my CFS/Lymes has definitely been more present in my life and so I have to be satisfied with the things that I DO get done. I appreciate your reading my blog and visiting my website despite my habit of 'irregular' posting! Thank you! Currently, my head is filled with all kinds of ideas and the Pendelton wool is continually calling my name to be put to good use! Stay tuned!